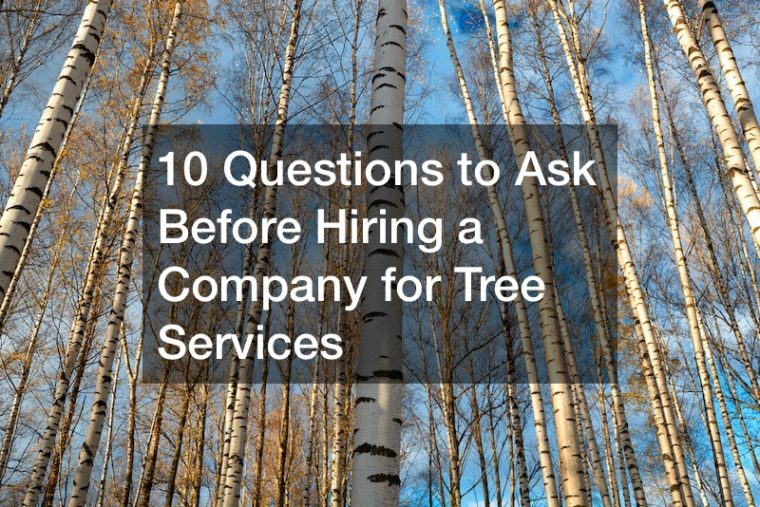 Tree services are not something you often need at your home. Typically, you have a few trees that must be addressed and then probably nothing for a long time. This can make it difficult to find the right company to help you when you do require their services. This guide provides some assistance by giving you the top 10 questions to ask tree companies before you hire them. Do not make a tree company selection until you have answers to all of these questions.
What Services Do You Offer?
When you are searching for a dependable tree removal company, you want to know the right questions to ask tree companies. Obviously, one of the first things you want to know is what services they offer. You may require something special, and if a company doesn't provide the services you need, it's time to move on to a different company. For example, if you want to try to preserve your tree and not immediately rush in and cut it down, you want to ensure that any tree cutting services you select provide these services.
You also want to know if the tree company provides any warranties for the services they offer. They could call it a different name, like a guarantee of work. No matter the name, when you hire a company to remove, plant, or save your trees, you want to feel confident in their ability to do the work. An ideal way for them to show you they are sure of their abilities is to provide a guarantee for their work.
Are You Licensed?
One of the most important questions to ask tree companies is if they are licensed. A dependable backyard landscaper and tree removal company has up-to-date licenses. In addition to having current licensing, you want to ensure the company meets all the requirements set by your state to remove trees. Just about every state is going to require the company to have some type of business license to operate.
The state in which you live may require some additional certification. It is essential that you have some awareness of what certifications a tree removal company is required to have. When any company can provide proof of their valid license, you can feel secure they are a legitimate and serious business. If a company does not have a business license, you do not even want to consider them as an option. That is a glaring sign that you need to look for a new company to remove your trees.
Are You Insured?
Another one of the top questions to ask tree companies is, are you insured? You do not want to hire a company that doesn't have insurance. Not only does insurance protect you and your property, but it also protects their employees. When they have insurance, it shows they are a reliable tree removal company. There are different types of insurance that the tree removal company should have. These include liability and worker's compensation.
Liability insurance protects you if the business causes any damage to your property while working on it. Even the most careful businesses still have accidents. Insurance is intended to protect you if an accident happens. In addition to that, a business should have worker's compensation insurance. This type of insurance protects their employees while they are working. If any injuries are sustained while working, this insurance can protect them and you. If a business has this type of insurance, it can prevent you from being sued. It would be best if you asked to see a copy of their insurance policies to ensure they have the proper amount of coverage. Remember, this insurance is to protect you and your property, as well as any employees that are working on your property.
How Much Experience Do You Have?
When considering all the questions to ask tree companies, you want to know how long they have been in business and what experience they have. This gives you some idea of how professional and knowledgeable tree companies are. Often when a tree service company has been in the business a long time, it lets you know they have it together. Not only are they able to provide reliable tree removal services, but they can also run a business. This is a bigger deal than you may realize. While you want a tree company that can remove and cares for trees, you also want assurance in the company you select.
A long-standing business is usually organized and prepared. You can expect them to show up on time, remain professional, and keep appointments. Businesses that have been operational for years have built a reputation of trust. In addition to the years of experience, a company has, you also want to know if they specialize or have specific expertise in the particular areas of interest to you.
How Do You Keep My Property Safe?
The risk to your home and property when felling a tree can be significant when it's not handled properly. As a result, one of the top questions to ask tree companies is how they protect your property. While there is always some amount of risk, it can be reduced with proper tree removal processes. It is critical that branches and debris do not fall on your house during the process. When you hire local tree removal services, you want to ensure they follow some essential procedures to keep your family, your house, and your property safe. They should first study and understand the falling zone.
To do this, they must understand the direction in which the tree is going to fall or ensure that the tree falls where they want it to. After determining this, they want to ensure there is nothing in the area. A reputable company should move any obstacles out of the way. They should also ensure there are no wires or cables in the way of a falling tree. They should also use the proper equipment for the job. When the wrong equipment is used, everyone's safety is at risk.
Can I See Referrals?
Another one of the important questions to ask tree companies before you hire is for references and pictures of previous jobs. When you are hiring someone to do any type of work for you, you want to have an idea of the work they've done. Service businesses rely on reputation and word of mouth. These are some of their best marketing tools. There are many online review sites providing information about your potential tree trimming contractor. These reviews have not been paid for by the company and should be reliable.
You should ask for the names and contact information of previous customers. If they don't have any or are unwilling to provide you with that information, it should be a red flag for you. It's also a strong indicator you should look for another contractor. Your friends and family are other great resources. If you know someone that had trees removed recently, ask them about their experience and their opinion of their contractor.
Do You Offer Emergency Services?
When looking for a dependable tree removal company, you want to know what type of services they offer. While it may seem odd to you right now that you may have a tree emergency, one of the questions to ask tree companies is about their emergency tree services. You could have an emergency situation when there has been a bad storm or lightning has hit a tree on your property. As a result, you may need a tree company to come to your property immediately and take action. You can't be too careful when there are damaged trees close to your house.
Another situation where you may need emergency tree services is when the tree poses a danger to other trees around it. If the tree is hollow, it means that it is rotting away and needs to be handled professionally. You cannot always tell just by looking at a tree with the naked eye that it is rotting. If the tree is hovering around or on an electrical line, it requires emergency services to remove it. In addition, any tree that is obstructing a critical view must be handled as an emergency.
Is Stump Grinding Included?
You may not regularly think about stump grinding when you have a tree cut down. However, it is one of the top questions to ask tree companies because having stumps ground down is an important part of the tree removal process. When a company offers stump grinding services, they use a special tool called a stump grinder to remove the stump below grade. This means that all the visible parts of the stump and roots become mulch at least a few inches deep into the ground.
When you have stumps ground, the root ball is also removed. There is a hole left behind, which can be fairly significant based on the size of the tree stump. Some homeowners may want to plant a different tree in that space. This must be communicated with the tree removal company before any of the removal processes begins.
Can You Move a Tree on My Property?
If you want to move a tree from one location to another on your property, those are important questions to ask tree companies. It is possible to move most trees; however, it is not always easy. Before contacting any tree moving company, you should understand what trees you want to move, why, and to where. A professional tree removal company will alert you that the best time to move trees is late winter or early spring. It is ideal to wait until all the leaves have fallen off the tree in the fall or before the buds appear in the spring. Moving trees can be stressful on them, so it is essential that a professional assess the tree to ensure it can handle it.
They will suggest that you plant the tree in a location that has similar characteristics to the location from where you are moving it. This includes having the tree face the same direction and receiving the same amount of sunlight each day. If the tree is not healthy enough for a move, you should wait until it is healthy.
Are You Certified Arborists?
When thinking about the best questions to ask tree companies, you want to find out about their credentials. It would be best if you looked for a company that has certified arborists with special training and credentials. An arborist is an expert in trees. They have received special training for the proper care of trees. Some of the credentials they may be required to have are AED and CPR certification, powerline safety certification, and climber safety certified. In addition, you want an arborist that has certification from the International Society of Arboriculture (ISA) and is certified in emergency aerial rescue.
When the company you choose has these credentials, you can ensure they are a safe and professional company that will handle the job with care and skill. It also means they have gone through a set number of coursework hours, but they also operate under a special code of ethics. You also want to ensure the tree company has an arborist on staff and is not a contractor. Companies often feel a greater sense of responsibility to their staff. When a company has a full-time, permanent arborist, they also tend to have more loyalty to the company.
These ten questions are important to ask when you are interested in having tree services at your home. Depending on your needs and the state of the trees, it is essential that you feel confident in any company you select. The answers to these questions can help you do that.